Events
What's happening?
There is much to discover in the UNESCO World Heritage region of Hallstatt Dachstein Salzkammergut and in the numerous neighbouring towns. In our event calendar you will find the best tips for your holiday in the heart of Austria. For those who do not want to click around, we have summarised the best events in our seasons overview. We hope you enjoy browsing and have an unforgettable holiday in the Salzkammergut
Overview: Event calender & Highlights
Guided tours - Part of your Journey
Art and culture in the Salzkammergut
Powerful vocals at sacred venues. The concert series of the summer. Always new - always different. At the Mondsee, Lake Hallstatt, Traunsee and Attersee.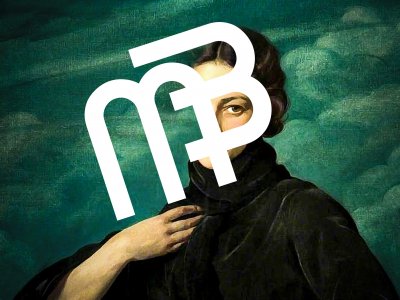 This year, the Masters' Summer in the Salzkammergut Hand.Werk.Haus in Bad Goisern presents itself as "literally masterful". Around forty exhibitors will be presenting products made by master craftsmen.
This year's cartoon exhibition in the Styrian Salzkammergut is entitled "Fresh - Cult - Styrian". Look forward to international works & weird delicacies. And that every day.
Salt Worlds in Hallstatt & Altaussee
Sports in the Salzkammergut
More than 5.000 participants from 40 nations make the Salzkammergut Trophy Austria's biggest MTB marathon. One of the most spectacular marathon tracks in Europe!
Here, fun with the element 'water' is at the forefront! The "Lake Hallstatt swimming marathon" takes place in the UNESCO World Heritage Region of Hallstatt Dachstein Salzkammergut.
This year, for the first time, runners will take to the half-marathon course, around picturesque Lake Hallstatt in autumn. So right after the summer holidays. After a two-year break, there is still plenty of time for training! Registration is possible from mid-March!
Customs and traditions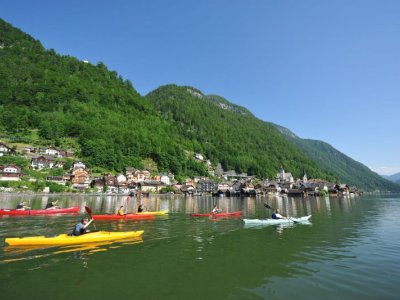 The nature experience of summer! Daily from 1st of May to 26th of October 2022! By appointment only! Tour duration: about 3 hours.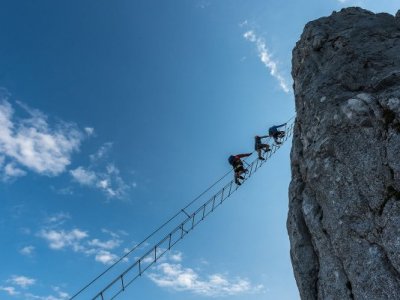 Via ferrata training for beginners and advanced - guided via ferrata tours. Bookable daily. From 1st of May to 26th of October 2022. Registration is essential!
Workshops & more
Learn to yodel with Anita Biebl Every Tuesday from 5th July to 6th September from 10:00, duration 1.5 h, Meeting point Katrin cable car valley station
From15th of August to 19th of August 2022 in the world-famous lakeside resort of Hallstatt - an unforgettable holiday with intoxicating music! Get informed with no obligation!
At the foot of the Dachstein Mountains in the lovely Gosau valley, musicians from many other European countries meet for the Gosauer Singwochen.
Christmas in the Salzkammergut